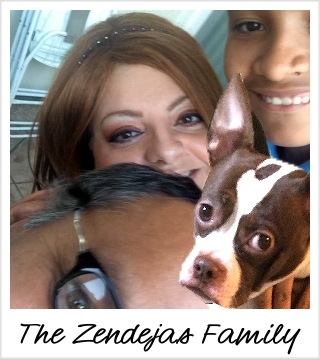 Me with the three loves of my life: my husband Adam and our two sons. :-)

"When you buy something made by a person, there is something special there, and you do feel it. The consciousness with which a thing is made is often more important than the thing itself."
~ J. Donald Walters
Thank you for your interest in MAZmade. I am an artist, designer & maker from the San Francisco Bay Area. It is my pleasure to offer my artwork for sale in my Etsy Shop. I hope you enjoy my creations as much as I enjoyed creating them. I make several different types of arts & crafts, so check back often. Please contact me if you would like a custom order or if you have any questions.
Please visit www.PerPerson.com to view my greeting cards, invitations, personalized gifts, card toppers, favors and other paper crafts.
About MAZ:
My art resides in private collections all over the world. I am honored that my work has been featured in The Rubber Stamper, Technique Junkies, Pennywise Arts, Gingersnap Creations, The Heart Collective, ZNE, several studios and on several websites/blogs.
I love to work with my hands. I enjoy working with mixed media to create one of kind art, both decorative and wearable. My work is best described as Assemblage, combining elements of Fine Art, Decorative Art & Crafts into one design.
I am also known for my paper crafts, especially card making and designing paper, collage sheets and stamps. My handcrafted greeting cards are sold worldwide, both retail & wholesale. My newest designs can be found at www.PerPerson.com. My husband and I founded Swing Shift Designs (our digital design company) in 2007, providing wholesale Collage Sheets, Scrapbook Paper and Rubber Stamp designs both branded and unbranded to the craft industry. In addition to wholesale, we now sell some of the digital designs in our other Etsy shop, Swing Shift Designs. I love using the collage sheets & papers for greeting cards, jewelry, and assemblages (especially wall art, mixed media jewelry and decorated memory/treasure boxes). My favorites are vintage images from postcards and antique books. I love the elegance and creativity that went into illustration during the 1800's and early 1900's. Flourishes, birds and floral designs appeal to me most, although I enjoy working with any theme.